Rederij P. Kooij - Rondvaart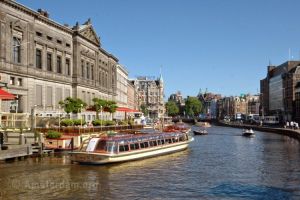 Of course, the best way to explore Amsterdam is from the water. Discover the city's beautiful canals, lined with impressive canal houses with ornate facades. Our tours feature the best of what Amsterdam has to offer. The historic city centre, the IJ, the Dutch East India Company ship "De Amsterdam", moored at the Scheepvaartmuseum, the Golden Bend in the Herengracht canal and, of course, the river Amstel with its Magere brug (Skinny Bridge) and Het Carré Theatre. You can choose to start your journey from any of our different jetties. The departure times from our jetties are included below.
The standard tour lasts one hour.
Furthermore Rederij P. Kooij is near the following sights: Allard Pierson Museum (±20 m), Dungeon Amsterdam (±125 m), Civic Guards Gallery (±175 m), Begijnhof (±200 m) & Blue°Amsterdam (±200 m).
For information:
Rokin 125, Amsterdam
tel. +31 206 233 810
web.
Website