Red Light District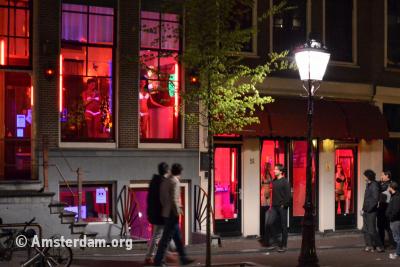 The Red Light District is without a doubt Amsterdam's most popular free outdoor attraction. It's an area where many brothels, window prostitution, sex clubs and coffee shops can be found. It is probably the most famous whore district in the Western world.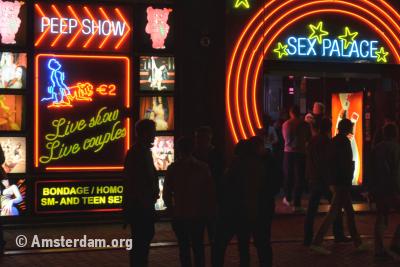 It's called the Red Light District (whores quarter) because of the red glow that's predominant at night. The typical red neon lights of all brothels and sex clubs reflected attractively on the canal water of Amsterdam.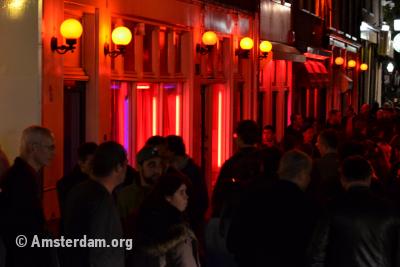 Oldest part of Amsterdam
The Red Light District is really worth a visit during your city trip through Amsterdam. What many people overlook is that the Red Light District is one of the oldest and most beautiful parts of Amsterdam. Despite its shady reputation, you will find historical long winding cobbled streets with quintessential 14th century architecture, such as the Gothic Oude Kerk (Old Church) for instance. During a stroll along the idyllic canals you can relax in the warm atmosphere which hangs over the area every night.
Furthermore, you can go to the countless classic restaurants and cozy cafes. There's gorgeous rows of trees along the canals, beautiful old buildings and nicely renovated facade fronts. Also the arrival of trendy shops have gradually transformed this area into a very beautiful district of Amsterdam. In a nutshell, a visit to Amsterdam is not complete unless you've made a stroll along the famous Red Light District.
Alcohol, drugs and sex
Without a doubt, the Red Light District is where women of all nationalities parading seductively and sensually behind their windows. Alcohol, drugs and sex: that's pretty much what it's all about in the red light district.
Another common sight in The Red Light District is the groups of young or old men, lovers who are holding each others hand, giggling women who are having a bachelor party, and (not to be left out) the full tour buses with large groups of Asian people. All of this must surely be enough reason that you shouldn't miss a visit to the Red Light District.
Live shows
For those who want something extra, there's plenty of live sex shows to enjoy. Whether you want to go Windows shopping Amsterdam style, or actually want to buy something. No doubt there will be a location or window that will accommodate your needs Below you will find the most famous live sex show of Amsterdam: