Cycling
Become a real local: get on a bike and discover the city. For foreign visitors it might be hard to understand, but to locals, biking is the most practical and fastest way to get from A to B in the centre of the city. The 17th century centre of Amsterdam is not made for cars. The narrow streets and canals are usually fit for pedestrians, but also bikes. Biking is above all healthy, practical and fun!
Biking is also an attractive and adventurous way for tourists to explore the city. It is often faster and cheaper than public transport, and it allows you to combine different activities. When you rent a bike, be careful not to get the wheel stuck in a tram rail. You can then lose control of the bike and fall.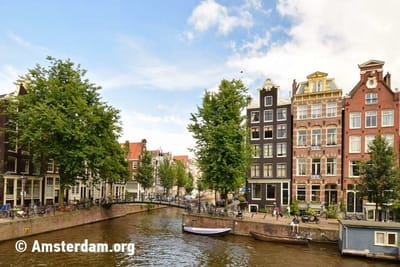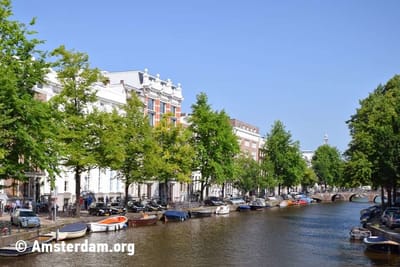 Free cycling and/or hiking trails
Below are three different routes for viewing the best and also free sight seeings on the canals of Amsterdam.
Bike tours
Most bike rental services also offer bike tours. An experienced guide will tell you all about the city and shows the best sights. There are different themed tours, such as a historic city tour, Jordaan tour or a pick nick tour.
Maps and routes
Of course, you can also explore the city on your own. Many rental services offer bike routes and maps for sale for Amsterdam and the surrounding areas.
Cycle routes
The Netherlands has created a network of over 4,500 kilometers of bicycle routes. Most routes are only available in the Dutch language. You can acquire local bike guides and bike routes at the local tourist information center, local bike rental shops or online.
Bike rental
You can rent a bike everywhere in the city. Especially around the Central Station, Leidseplein and Dam are a lot of rental places. Renting a bike is usually possible from as little as three hours, and the average price per day is 10 euro. For bike rentals in Amsterdam, we recommend the following companies:
Een fiets huren in het centrum van Amsterdam. De verhuurlocaties van Amsterdam Bike Rent zijn centraal gelegen, vlakbij Central Station en de Dam. Je huurt bij ons al een fiets met 7 versnellingen vanaf € 5,00 ! Het enige verschil tussen onze fietsen en die van de meeste ...
Bike rental online
Spuistraat 110, Amsterdam
web.
Website
More information
Green Budget Bikes is the best way to explore Amsterdam. We have a large selection of bikes so you can find the best bike for you. We offer guided tours through the city and countryside. See Amsterdam from a different perspective with our experienced tour guides.
Bike rental online
Nieuwezijds Voorburgwal 101, Amsterdam
web.
More information
More information
Rent a bike and see the sights of Amsterdam at leisure. The rental shop is just a 10-minute walk from Central Station. With your rental you'll get a free cup of coffee at a cafe where you can enjoy beautiful view over the IJ. This popular cafe once hosted the Dutch royal family for ...
Bike rental online
Piet Heinkade 25, Amsterdam
tel. +31 204 199 063
web.
More information
More information
-Bike is the place to be for bike rentals in Amsterdam. Our friendly staff strives to give you a wonderful and unforgettable biking experience. Each customer gets the 5 star treatment from us – just check our 5 star ratings on TripAdvisor and Google Plus. Whether you're big or small, pro or beginner, our wide variety of offerings ensures we've always got the perfect bike for you. Do you ...
Bike rental online
Rokin 105-A, Amsterdam
web.
Website
More information
Bicycles
You can rent bikes from train stations and several companies in the city. There are special bike lanes throughout the city. Biking is an excellent way to avoid the chaotic traffic. A bike can be parked almost anywhere, but make sure to lock it well. Bike theft is very common in Amsterdam.
Bicycling in Amsterdam is a way of life for most Dutch and still the best way to get around. There are dedicated bike paths throughout the city and few hills to conquer. Most companies offer bicycle rentals per day with discounts for longer rentals.