Department Stores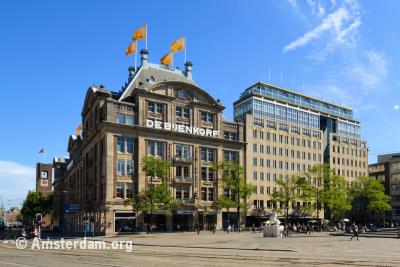 Today, Amsterdam is a great place to shop. You'll find all kinds of brands here, from countries all over the world. Department stores in Amsterdam often organize Asian or African themed weeks.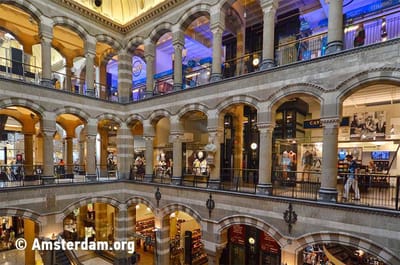 With the exception of Villa Arena and Batavia Stad, all department stores and shopping centers in Amsterdam are within walking distance from the Dam Square. After a few hours of shopping you have a good idea of ??what all the shopping areas have to offer. Shopping in Amsterdam is not cheap, but it will certainly save you time and effort.
Bijenkorf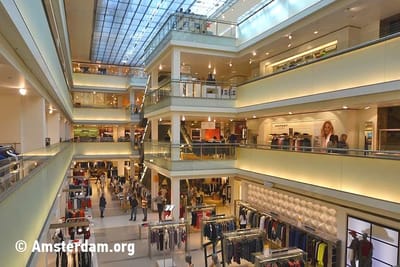 At the Dam Square, you will find the Bijenkorf, a trendy and modern department store with a wide range of clothing and the latest fashion trends. The largest department store in Amsterdam is centrally located, and is a store that's not to be missed. It is a lavishly stocked department store, with expensive goods and actually not initially a department store with house, garden and kitchen products. Therefore do not expect an extensive range of all kinds of products in the many departments of the Bijenkorf.The products sold are of high quality, fashionable and unique. It will certainly benefit your shopping experience. Dam 1, on the left side of the Royal Palace of Amsterdam.
Kalvertoren is a large and modern shopping center, all the way at the back of the main shopping street in Amsterdam, the Kalverstraat. Kalvertoren has several fashion shops, a department store with general household items, cosmetics, a watch shop, shops for contact lenses and eye wear, an interior decoration shop, a music store, a good coffee shop and an ice cream parlor. The Kalvertoren is located within the triangle formed by the Kalverstraat, Heiligeweg and Singel: the entrances are on the Kalverstraat and the Heiligeweg.
Magna Plaza
Magna Plaza is an exclusive shopping center in a beautiful monumental building. It is close to Dam Square. Magna Plaza is a convenient, small shopping center, almost directly behind the Royal Palace of Amsterdam. On the three stories of Magna Plaza you can find all major fashion brands. There is also a brasserie with Italian delicacies and a coffee house. Address: Nieuwezijdse Voorburgwal 182, behind the Royal Palace of Amsterdam.
Villa Arena
We do not expect you to look for new furniture during your trip to Amsterdam, but because we still want to provide you with a complete overview: Villa Arena is a large shopping center that specializes in interior decoration. Besides furniture, there's also many accessories and many ceramics for the home. There's a big electronics store, two sports stores and a multiplex cinema with nine movie theaters. The AFAS Live, Ziggo Dome and the Ajax Museum are within walking distance from the Arena Boulevard.
There is a convenient parking garage and a subway station nearby, but Villa Arena is quite far from the center of Amsterdam, near the famous soccer stadium - Amsterdam Arena in Amsterdam Southeast. Address: Boulevard Arena 60, the parking garage is on the right side of the complex.
Once you've seen one shopping center you've seen a mall - unless it's actually a reconstructed 17th-century village in the Netherlands. Get ready for bags of fun at Batavia Stad, home to 250 international fashion and lifestyle brands with discounts of up to 70% off! In this outdoor mall, fashioned into a charming village, shop till your arms ache across 250 fashion and lifestyle brands. ...
Book tickets online
Bataviaplein 60, Lelystad
web.
More information
More information