Western canal route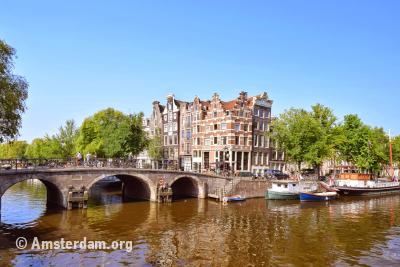 The Amsterdam canal belt was constructed in several phases. The western part of the canal belt was constructed first between 1613 and 1625. The area counts many atmospheric streets. The Golden Age intertwines with the Middle Ages. The Western canal belt is very quintessential to Amsterdam and for is that reason very popular among locals as well as tourists.
Below are three different routes for viewing the best and also free sight seeings on the canals of Amsterdam. Other city centre routes are: Southern canal route and Old city center route.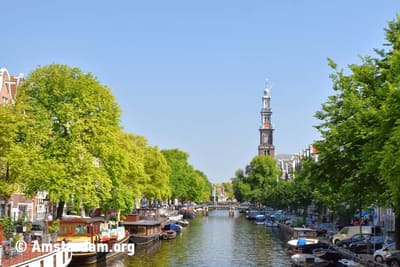 Western canal route (1600 - 1660)
Singel 2; 1611
Het Spaanse huis; Oldest stepped gable in Amsterdam.
Korte Prinsengracht 5, 7 & 9; 1620, 1750 & 1653
130 years of stepped gables next to each other. A gable from 1620, a facade clock dating from 1750 and a neck facade from 1653.
Prinsengracht 2; 1641
Has stepped gables on two sides.
Karthuizersstraat 89-171; 1650
At the spot where the Kartuizerklooster (Carthusian Monastery) once stood, a court for widows was constructed: the Huiszitten-Weduwenhof (Sit-at-home Widow court, also known as the Carthusian Widow court).
Prinsengracht 154;
A clear example that some houses have a pretty angled corner behind their front gable with respect to the canal.
Herengracht 168; 1636
Oldest neck gable in Amsterdam.
Keizergracht 123; 1622
Huis met de Hoofden (House with the Heads) is red brick house with white stone elements and features the heads of six gods.
Singel 104 & 106; 1740
Highest twin bell gable in Louis XIV style.
Kattengat 2 & 4; 1614
Goude en Silveren Spiegel (Gold and Silver Mirror) is a twin step gable in Dutch Renaissance style.
Singel 7;
Narrowest facade (1 meter) of Amsterdam.
Map
Get Directions