Museum of the Canals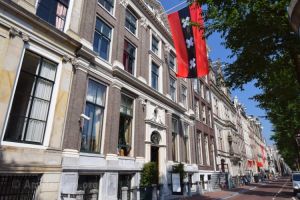 In Amsterdam you can visit a museum that is dedicated to the canals of Amsterdam from the 17th century, the Canal House Museum.
Canal house and Canal-belt history
The building in which the Canal house museum is located, makes part of the world heritage list since 2010, ever since then the doors have been opened to public.
The history of the world famous canal-belt can be experienced through an interactive exhibition. During this tour you will see, among other models, animations and 3D wall projections. You also get a chance to see a dollhouse where the rooms brought to life. This whole journey through 400 years of history will take you 40 minutes. Besides the stylish rooms there is the beautiful garden, which is worth visiting.
All though the website of the museum itself offers you access to an online database of approximately 9600 objects, buildings and complexes, you'll find lots of fun to visit this museum.
Furthermore Museum of the Canals is near the following sights: Biblical Museum (±20 m), Dutch Costume Museum (±125 m), Begijnhof (±250 m), Torture Museum (±300 m) & Blue°Amsterdam (±350 m).
For information:
Herengracht 386, Amsterdam
tel. +31 204 211 656
web.
More information