Nieuwe Kerk (New Church)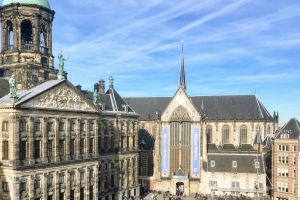 De Nieuwe Kerk in Amsterdam is famous for its much talked-about exhibitions. With hundred thousands of visitors every year, the church is one of the most attended exhibition locations in the Netherlands. The large-scale exhibitions on treasures from other countries, cultures and religions are a household term to many people.
De Nieuwe Kerk is located in the middle of the city centre at Dam Square next to the Royal Palace on Dam square. The monumental church building is well worth visiting. The church is also known as the place where the inauguration of the Head of State as well of the national Remembrance Day service on 4 May takes place. In 1980, Queen Beatrix was officially inaugurated in De Nieuwe Kerk. On 2 February 2002 the wedding between the Prince of Orange and princess Máxima took place.
Furthermore Nieuwe Kerk (New Church) is near the following sights: Erotic Museum (±50 m), Royal Palace on Dam Square (±70 m), Madame Tussauds (±150 m), Ripley's Believe It or Not! (±200 m) & Body Worlds (±250 m).
For information:
Gravenstraat 17, Amsterdam
tel. +31 206 386 909
web.
Website