Albert Cuyp Market - Sight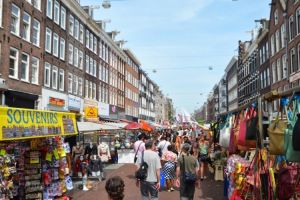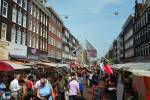 With over 260 stalls, the Albert Cuyp market is by far the largest and most famous open-air market in the Netherlands. You can find great bargains here, from clothing and textiles to food and furniture. On the Albert Cuyp you'll find real Amsterdam humor, atmosphere, top-sympathy and geniality. A day in Amsterdam is not complete without a visit to the most popular market in the Netherlands.
This market has been around since 1905, and after more than a hundred years it is still incredibly attractive to locals, culinary lovers, bargain hunters, sightseers and tourists. You will find everything here, from the most ordinary to the most extraordinary; accessories, fabrics, second hand clothes, bags, shoes, coats, cloth, flowers, herbs, fish, vegetables, fruit, exotic products and home decoration items. And all this for a great and affordable price. A place where you won't get bored quickly.
The Albert Cuyp Market is located in the from 19th century dating De Pijp quarter; the Quartier Latin of Amsterdam. The numerous exotic shops, workshops and traditional arts and craft shops, as well as cozy cafes and restaurants give the neighborhood a lively and varied character.
From Monday to Saturday from 9 am to 6 pm.
Furthermore Albert Cuyp Market is near the following sights: Heineken Experience (±350 m), Gardens of the Rijksmuseum (±550 m), Rijksmuseum (±650 m), Stedelijk Museum (±700 m) & Moco Museum (±700 m).
For information:
Albert Cuypstraat, Amsterdam
web.
Website