Condom shop Het Gulden Vlies - Sight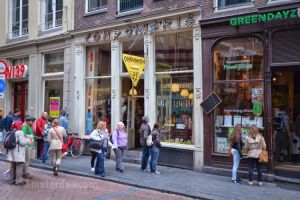 This shop is the holy grail of condoms. They come in all colors, shapes, flavors and sizes. Some of the rubbers have even been hand-painted and are meant for decoration only. You'll also find a surprising amount of information and books about our rubber friend. Thereeven a small condom museum!
Furthermore Condom shop Het Gulden Vlies is near the following sights: Body Worlds (±150 m), Oude Kerk (Old Church) (±175 m), Ripley's Believe It or Not! (±200 m), Red Light Secrets, Museum of Prostitution (±200 m) & Hash, Marihuana & Hemp Museum (±225 m).
For information:
Warmoesstraat 141, Amsterdam
tel. +31 206 274 174
web.
Website
Location