Willet-Holthuysen Museum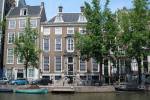 In the 19th century, Mrs. Willet Holthuysen bequeathed her 17th century canal house to the city of Amsterdam for it to become a museum. Now it is the only fully furnished patrician house that is opened to public.
17th century Canal House
The beautifully decorated 3 floors house contains the extraordinary art and crafts collection of the Dutch Golden Age.
The kitchen, situated on the first floor is a remarkable example of everyday life in 18th century. It has a fine collection of blue-white porcelain crockery, kitchen household items, demonstrating the eating habits of that time. A big Dutch stove will prove that this was the warmest place in the whole house.
On we move and get to the magnificent area with a garden laid out in an English style with sophisticated sculptures, blooming flowers, well-handled grass spots and an impressive sun-dial.
On the second floor you will enter a luxurious ball room and elegantly decorated dining room where the family used to do the honors of the house. The blue room holds the works of the famous Dutch painter Jacob de Wit.
The 3rd floor is the living area, where the masters' rooms are situated. Abraham and Louisa Willet Holthuysen gave the first floor a complete face-lift in elegant Louis XVI style.
Furthermore Willet-Holthuysen Museum is near the following sights: Our House Amsterdam (±80 m), Xtracold Icebar (±125 m), Normaal Amsterdams Peil Visitor Centre (±250 m), H'ART Museum (±250 m) & Amsterdam Museum (±300 m).
For information:
Herengracht 605, Amsterdam
tel. +31 205 231 822
web.
More information