This is Holland - Attraction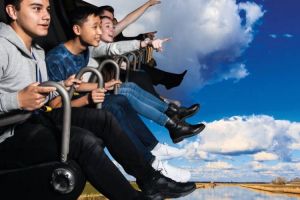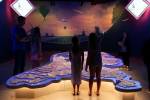 This is Holland offers a unique flight experience over some of the most iconic spots in the Netherlands. Take a seat and get ready for lift off. This is Holland uses the latest technology to give you a real flying sensation. Sitting under a huge dome screen, you can let your feet and hands dangle freely to feel just like a bird. The 8-minute long film will take you on a breathtaking journey across the Netherlands. During the flight, you will forget you're not actually flying. The atmospheric effects of wind, mist, and smells will add to the experience. This is Holland will show you the Dutch world heritage sites, bulb fields, Amsterdam's canals and other iconic Dutch scenes during this fantastic flight.
History of the Dutch countryside
The Flight Experience is not the only part of This is Holland. You will also get a fun and interactive history lesson about the Netherlands and the Dutch countryside. The history of the Netherlands started two thousand years ago when the Dutch countryside was still an impenetrable swamp that the Romans called the worst place on earth. But luckily there were people who saw its potential. Learn about the small country that was created out of the water using mounds, dikes, windmills, and polders. The beauty and persistence of the Dutch countryside and the people who've created it is the inspiration behind This is Holland.
Furthermore This is Holland is near the following sights: EYE Film Museum (±125 m), Ferry over the IJ (±450 m), Tram line 2 (±700 m), Lovers Cruise (±700 m) & Stromma Cruise (±700 m).
For information:
Overhoeksplein 51, Amsterdam
web.
More information