EYE Film Museum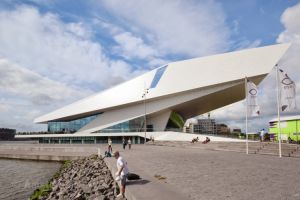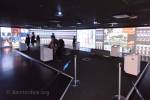 EYE Film Museum in Amsterdam is open every day for anyone who loves film. Four screening rooms, a large space for changing exhibitions, the EYE Shop, a bar-restaurant and the permanent presentation in the Panorama helping the visitor early in the morning till late evening welcome. A building with cinematic views of the IJ.
EYE has four comfortable screening rooms, equipped with the latest projection technology, where visitors enjoy the latest arthouse films and the best classics, including 35mm and 70mm. Among the highlights from the history of cinema and blockbusters to cult films, partly from the rich collection of EYE. Regularly there are retrospectives, lectures, Q & A's, live music performances and festivals. EYE annually presents four major exhibitions.
Furthermore EYE Film Museum is near the following sights: This is Holland (±125 m), Ferry over the IJ (±400 m), Lovers Cruise (±650 m), Tram line 2 (±650 m) & Stromma Cruise (±700 m).
For information:
IJpromenade 1, Amsterdam
tel. +31 205 891 400
web.
Website