Gardens of the Rijksmuseum - Sight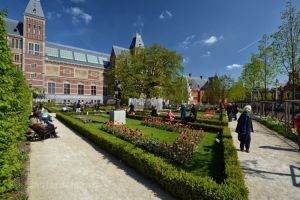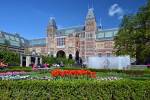 The Rijksmuseum also has a 'green outdoor gallery' of more than 14,500 m2. Several historical garden styles can be found in these gardens, with original statues, building fragments, ponds and lawn areas.
A number of new features are added, such as the post-war playground equipment by architect Aldo van Eyck from Amsterdam 'Nieuw-West' and a 19th-century glass greenhouse with forgotten vegetables. A playful water maze has been constructed, according to a design of the Danish sculptor and installation artist Jeppe Hein, thanks to a contribution of Joop and Charlotte Caldenborgh.
The gardens, which are freely accessible, form a pleasant new park in the city where visitors can stroll and relax. Visitors can enjoy a drink in the fully restored 'van Logteren' gazebo.
The garden is free to visit from 9am till 6pm, and is open daily.
Furthermore Gardens of the Rijksmuseum is near the following sights: Rijksmuseum (±100 m), Diamant Museum (±250 m), Moco Museum (±250 m), House of Bols (±300 m) & Stedelijk Museum (±300 m).
For information:
Museumstraat 1, Amsterdam
tel. +31 206 621 440
web.
Website