NEMO Science - Museum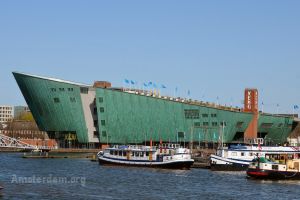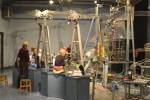 NEMO houses loads of experiments and exhibitions inside its giant green hull on Oosterdok. No matter your background you will learn something new and have fun while doing it. Attractions change regularly, check the homepage to get the latest word.
The four floors of NEMO is a stimulating scene. Children of different ages have fun with giant soap bubbles, experiment in the chemistry lab or produce videos and music in the Media Lab. Grown-ups, with or without children of their own, have fun at NEMO too. It's hard to hold back when presented with all the gadgets and experiments. Hoisting oneself to the ceiling, solving murder mysteries with DNA technology and disassembling old electronics is more than child's play.
There are several cafés and if you prefer to bring your own food, snacking on it is allowed in assigned places. On a sunny day you should picnic out on the large roof terrace.
Furthermore NEMO Science is near the following sights: VOC schip Amsterdam (±250 m), Library Amsterdam (±300 m), Maritime Museum (±350 m), MacBike Bike Rental (±450 m) & Skylounge (±550 m).
For information:
Oosterdok 2, Amsterdam
tel. +31 205 313 233
web.
More information