Library Amsterdam - Observation point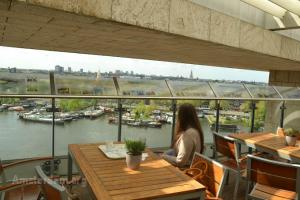 The Public Library Amsterdam at Oosterdok offers one of the most beautiful views of the center of Amsterdam. With an area of 28,000 square meters, it is also the largest library in the Netherlands and attracts two million visitors annually, making it one of the most visited places in Amsterdam.
What can you expect?
Spectacular View: The literal and figurative highlight of the library is the 7th floor. Here you will find the summer terrace, which offers breathtaking views of the historic center of Amsterdam.
Food and Drink: On the same floor, you will also find the Babel restaurant, where visitors can enjoy a cup of coffee or a light meal, for example.
Seasonal Terrace: Although the terrace is closed from November to March, visitors can enjoy the beautiful view from behind the large windows the rest of the year, 26 meters above the city.
Accessibility: The access to the library and the viewpoint is free.
Practical Information:
Public Transport: You can easily reach it from Central Station by walking about 7 minutes east on Oosterdok Island.
Arriving by bike? Then, next to the library, there is an underground, secure bicycle parking facility. Your bike is stored there for free, safe, and dry.
Facilities: With a café, restaurant, and theater, the library is equipped to serve a wide range of visitors.
Whether you're a book lover, looking for a quiet place to relax, or simply want to enjoy one of the best views in Amsterdam, the Public Library Amsterdam at Oosterdok is a location not to be missed.
Furthermore Library Amsterdam is near the following sights: MacBike Bike Rental (±125 m), Skylounge (±250 m), NEMO Science Museum (±300 m), VOC Ship Amsterdam (±550 m) & Hop On Hop Off Boat (±600 m).
For information:
Oosterdokskade 143, Amsterdam
web.
Website