Oude Kerk (Old Church) - Museum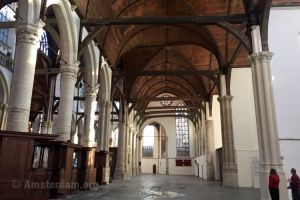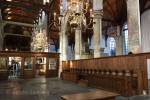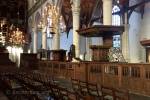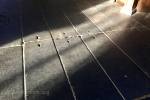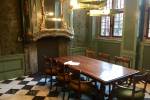 The Oude Kerk (Old Church) is located in the heart of Amsterdam, in the middle of the Red Light District. It's the oldest building in the city, which was founded by fishermen on the banks of the Amstel River. Around 1300, a stone church was built, dedicated to Sint Nicolas. This church would grow into the impressive mediaeval monument it is today. Anyone walking in will be captured by its beautiful light. Sometimes it has all kinds of colors, as a result of the stained glass windows, and sometimes the light shines bright and white over the ancient graves.
Stained glass windows
In mediaeval times, the windows of a church were partially or fully fitted with stained glass, illuminating the church in countless color variations. Most probably, there were over 33 glass windows, with the majority originating from the 15th and 16th century. The chapel of Maria has a scene with the Message to Maria, made by Lambert van Noort and Digman Meynaertsz. Other highlights include the Adoration of the shepherds, Maria's deathbed, the coat of arms of the Mayor and his aldermen and the Peace of Munster.
Tombstones and mausoleums
The old wooden predecessor of the current church was built in the 13th century on a mound, which at that time functioned as cemetery. With several expansions the stone church underwent, it became more and more of a necessity to bury people inside the church. Beneath the spot of where the altar used to be in 1300, is the oldest known grave of a citizen of Amsterdam. More than 10.000 people have been buried in the Oude Kerk (Old Church), under more than 2500 tombstones. The data was recorded and written down in books. The oldest preserved book has data from 1523, the last one is from November 1865. No one is buried in the Oude Kerk (Old Church) after that. A few remarkable graves have been highlighted here, among which are the family grave of Cornelis de Graeff, of diamond trader Killiaen van Rensselaer, of naval hero Jacob van Heemskerck, of organ player Jan Pieterszoon Sweelinck and of Saskia van Uylenburgh, Rembrandt's wife.
Furthermore Oude Kerk (Old Church) is near the following sights: Red Light District Walking Tour (±80 m), Red Light Secrets, Museum of Prostitution (±90 m), Museum Ons Lieve Heer op Solder (±125 m), Condom shop Het Gulden Vlies (±175 m) & City Sightseeing Amsterdam (±200 m).
For information:
Oudekerksplein 23, Amsterdam
web.
Website