Amaze Amsterdam - Attraction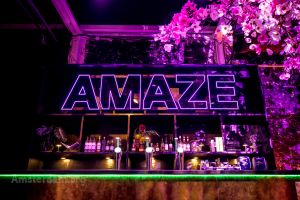 Amaze Amsterdam is an immersive experience created by the world's largest dance event organizer ID&T. Visitors experience a journey from head to heart, where they are taken through seven experience worlds filled with state-of-the-art audiovisual technology.
A labyrinth of storytelling is on offer, with shows full of lasers, lights, visuals, 11D sound, interactive effects and especially sound and music. AMAZE combines 30 years of show experience into a new, exciting way of going out – the next phase in the evolution of entertainment.
Furthermore Amaze Amsterdam is near the following sights: Fabrique des Lumières (±1,7 km), Tulip Museum (±3,0 km), STRAAT Museum (±3,0 km), Anne Frank House (±3,0 km) & Multatuli Museum (±3,3 km).
For information:
Elementenstraat 25, Amsterdam
web.
More information