STRAAT Museum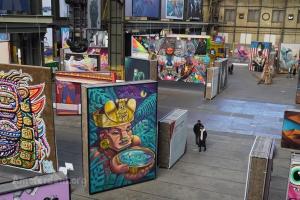 The STRAAT Museum offers a unique and immersive experience in the world of street art and graffiti. This museum, the largest of its kind, is a tribute to the vibrant and ever-evolving art form that adorns the streets of cities around the world.
What Can You Expect?
Large-scale Artworks: The STRAAT Museum houses an impressive collection of large street art works created by some of the most prominent and emerging artists from the international scene.
Dynamic Exhibitions: Visitors can enjoy a dynamic and ever-changing exhibition that celebrates the diversity and creativity of street art.
Interactive Experience: The museum offers an interactive experience where visitors can not only view artworks but also discover the stories behind them, understand the techniques, and explore the cultural impact of this art form.
International Artists: Artists from around the world, known for their works on the streets of New York, Tokyo, and São Paulo, have traded their walls for a more traditional medium in this museum. Their works remain life-sized, just like the stories and timelines they represent.
A Destination for Art Enthusiasts and Adventurers
On the exterior of the building, a gigantic, colorful portrait of Anne Frank immediately grabs attention. This powerful artwork symbolizes the impact and expressiveness of street art.
Visit STRAAT Museum and dive into the colorful and expressive world of street art and graffiti. The perfect destination for art enthusiasts, culture seekers, and anyone interested in understanding and appreciating one of the most vibrant art forms of our time. This unique cultural experience in Amsterdam offers an unparalleled glimpse into an art form that transforms urban landscapes worldwide.
Experience the art of the street at STRAAT Museum, Amsterdam!
Furthermore STRAAT Museum is near the following sights: Nxt Museum (±1,4 km), EYE Film Museum (±2,0 km), This is Holland (±2,1 km), Fabrique des Lumières (±2,3 km) & Ferry over the IJ (±2,4 km).
For information:
NDSM-Plein 1, Amsterdam
web.
More information