Christmas Market 2022
December
Put on your ice skates, get the kids in their winter coats and drum up your best friends; the best days of the year are just around the corner! We've listed the 6 best Christmas markets in Amsterdam for those who want to buy a unique Christmas present, have a lovely stroll along Christmas stalls or make a romantic tour through the canals during the Amsterdam Light Festival!
Top 6 Christmas markets in Amsterdam
1) Ice Village
A small Christmas Market is held every December in front of the Rijksmuseum at the Museumplein in Amsterdam. You will discover all kinds of gadgets, Christmas accessories, live entertainment and finger-licking food in the cozy winter chalets. Sports enthusiasts can even take a break from their Christmas shopping for a round on the ice rink.
When: 15 to 26 December 2022
Visiting hours: 11:00-19:00 hrs
Free entrance
Where: Museumplein
Website: www.icevillage.nl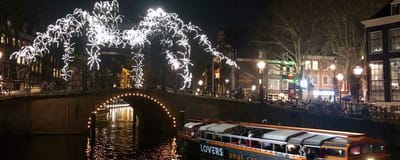 The streets are decorated with many lights during Christmas in Amsterdam during the Amsterdam Light Festival. But not only the streets light up. Dozens of artworks and installations from national and international artists decorate the canals in the city center of Amsterdam. There are different departure points, so there is always one that fits your itinerary.
When: December 1, 2022 - January 22, 2022
Tickets: from €19,95
Where: Canals of Amsterdam
Website: Amsterdam Light Festival
3) Funky Xmas Market
In December, the famous Sunday Market will be given a festive look for the Funky Xmas Market. As usual, you can search the stalls for craft products, witty interior accessories, homemade sweets, savory dishes and original gifts. Don't forget to catch your breath while enjoying live music and a cup of hot chocolate.
When: 18 December 2022
Visiting hours: 12:00-18:00 hrs
Free entrance
Where: Westergas, Polonceaukade 27
Website: www.sundaymarket.nl
4) Pure Market Winter Market
For if you want to do some shopping for Christmas dinner or just want to stroll around and buy some food. At the winter edition of Pure Markt you will find the most delicious fresh and pure products. There are several editions of the Winter Market in the atmospheric Park Frankendael.
When: 18 December 2022
Visiting hours: 11:00-17:00 hrs
Free entrance
Where: Park Frankendael
Website: www.puremarkt.nl
5) Museum Market Festive Edition
There is a festive Christmas edition of the Museum Market every year. This monthly market is known for its unique products by (Dutch) designers. Music, a snack and a drink are also available. During the festive edition, you will find plenty of special gifts for the holidays.
When: 10 December 2022
Visiting hours: 10:00-16:00 hrs
Free entrance
Where: Museumplein
Website: www.museummarket.nl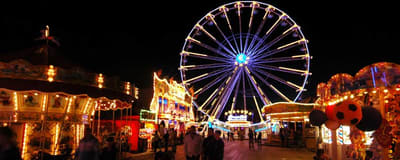 The RAI (in- & outdoor) will be transformed once again into your Ultimate Winter experience in Amsterdam. There is plenty to do, both during the day and in the evening. You can skate on both the indoor and outdoor track, do some cross-country skiing, curling, or if you're not really planning on being active, you can visit the après-ski, take a ride on the Ferris wheel, go to the cinema or the theatre, or listen to the live music. In short, Amsterdam's Winter Paradise promises to be a great place to be.
When: 15 December 2022 to 1 January 2023
Tickets: from €24,50
Where: RAI, Europaplein 1
Website: Het Amsterdamse Winterparadijs
Top 3 Christmas markets near Amsterdam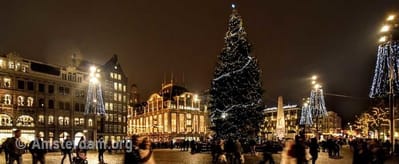 Take your wish list with you and swap Amsterdam for a day out at one of these magical Christmas markets in the area. In addition to an infinite range of special gifts, you can also enjoy all kinds of festive delicacies. Enjoy, shop and sniff around.
1) Christmas Market Haarlem
Jump on the sled to Haarlem. Your Christmas adventure starts in Haarlem, where its historic center and old canals add an extra touch of magic. The traditional Haarlem Christmas Market puts a smile on the face of visitors of all ages. Treat yourself with festive sweets, buy handmade gifts and enjoy carols sung by a choir in between.
When: 9, 10 and 11 December 2022
Free entrance
Where: Grote Markt, Haarlem
Public transport: ±40 min. / ±20 km
Website: www.visithaarlem.com/nl/kerstmarkt
2) Royal Christmas Fair, The Hague
You can soak up the atmosphere, smell and ultimate Christmas feeling in December in the Dutch political capital. Come and listen to one of the many storytellers and children's choirs. The Lange Voorhout is full of cozy stalls with flammkuchen, wood carvings and winter coats.
When: 8 to 24 December 2022
Visiting hours: 12:00-20:00 hrs
Free entrance
Where: Lange Voorhout, Den Haag
Public transport: ±80 min. / ±60 km
Website: www.royalchristmasfair.nl
3) Nostalgic Christmas Market, Leiden
On the beautiful Hooglandse Kerkgracht, an attractive scene can be created where beautiful Christmas gifts can be bought. Of course, the opportunity to drink a delicious hot mulled wine or chocolate milk will not be missed.
When: 15 to 18 December 2022
Visiting hours: 12:00-19:00 hrs
Free entrance
Where: Hooglandse Kerkgracht, Leiden
Public transport: ±49 min. / ±50 km
Website: www.visitleiden.nl
More Christmas in Amsterdam
Can't get enough of Christmas? Find out what else there is to do in Amsterdam during the holidays!
Location: Museumplein