Top 3 Christmas Markets Near Amsterdam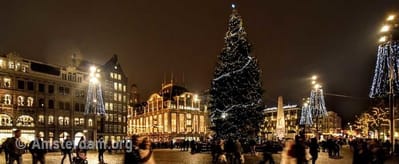 Take your wishlist along and swap Amsterdam for a day trip to one of these magical Christmas markets in the surrounding area. In addition to an endless array of unique gifts, you can also indulge in various festive treats. Browse, shop, and savour.
1) Christmas Market Haarlem
Hop on the sleigh to Haarlem. Your Christmas adventure starts in Haarlem, where the historic centre and old canals add an extra sprinkle of magic to the festivities. The traditional Christmas Market Haarlem brings a smile to the face of visitors of all ages. Indulge in festive sweets, pick up handmade trinkets, and enjoy Christmas carols sung by a choir in between.
2) Royal Christmas Fair, The Hague
In December, you can soak up the atmosphere, smell, and ultimate Christmas spirit in the Dutch political capital. Come and listen to one of the many storytellers and children's choirs. The Lange Voorhout is filled with cosy stalls offering flammkuchen, wood carvings, and wintry pelts.
3) Nostalgic Christmas Market, Leiden
A charming scene will be set up on the beautiful Hooglandse Kerkgracht where lovely Christmas gifts can be purchased. Of course, the option to enjoy a delicious warm mulled wine or hot chocolate will not be missing.
When: Wednesday 13 to Sunday 17 December 2023
Opening Hours: 12:00-17:00

Free Entry

Where: Hooglandse Kerkgracht, Leiden

Public Transport: ±49 min. / ±50 km

Website: www.visitleiden.nl
Christmas in Amsterdam
Can't get enough of Christmas? Discover here what else there is to do in Amsterdam during the festive season!