Rembrandts Amsterdam Experience - Attraction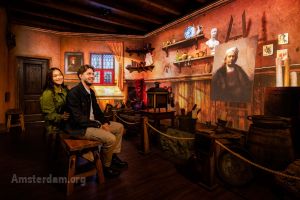 Get ready to step back to a time when Rembrandt roamed the streets of Amsterdam. Using an immersive video installation you'll be able to visit a reconstruction of his studio on the Rozengracht canal where he worked to create some of his most iconic works of art.
During the 25-minute experience, you'll learn the life story of Rembrandt and meet Rembrandt, his children, and his mistress. Shows play in Dutch, English, German and French.
Furthermore Rembrandts Amsterdam Experience is near the following sights: Blue Boat Company (±70 m), Holland Casino (±80 m), Rijksmuseum (±250 m), Diamant Museum (±350 m) & Gardens of the Rijksmuseum (±350 m).
For information:
Weteringschans 2, Amsterdam
tel. +31 202 269 094
web.
More information