WestCord Art Hotel Amsterdam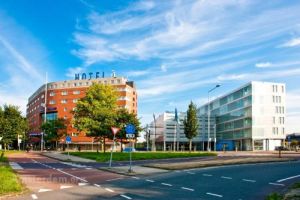 The 4-star WestCord Art Hotel is situated on the edge of the historic centre of Amsterdam. A 15-minute walk through the Westerpark will get you to the heart of the city. Guests benefit from an outdoor swimming pool and free Wi-Fi throughout the...
[1] - Large Room
This spacious room features a flat-screen TV, work desk, minibar, a purple lounge sofa, a Nespresso coffee machine and tea making facilities. The bathroom with glass walls includes a bath, shower and separate toilet.
[2] - Junior Suite
This spacious suite has a large sofa, a flat-screen TV, work desk and a Nespresso coffee machine. At the entrance, there is a large space for your coat and luggage.
The bathroom boasts a bath and a shower. A separate toilet is also offered.
[3] - Family Room
This room with 2 single and 1 small double bed is equipped with a Nespresso Machine, electric kettle, a lounge chair, air-conditioning and a walk-in shower. The rooms are situated on the corners of the hotel which allows sunlight to come in from two sides.
[4] - Luxury Quadruple Room
This quadruple room features a seating area, a Nespresso coffee machine, an electric kettle and a sofa.
[5] - Suite
This spacious suite features a bathroom with spa bath, a large living room, a Nespresso coffee machine and a separate bedroom.
For information and reservation
Search & Book
Spaarndammerdijk 304, Amsterdam
web.
More information