Tulip Experience Amsterdam - Museum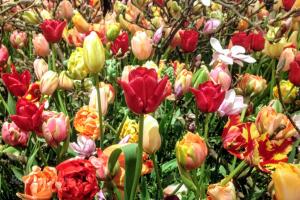 Awarded with the prestigious title of the world's 'Best Hidden Gem 2023'. Step into a world of colour and culture in the heart of the Bulb Region at Tulip Experience Amsterdam. This unique experience invites visitors on a fascinating journey through time, from the discovery of the tulip in Kazakhstan around the year 1000, to the beloved icon it is today in the Netherlands.
Living Museum and Enchanting Show Garden
Tulip Experience is more than just a museum; it's a celebration of the beauty and heritage of the Dutch tulip. Discover the captivating history and breeding process of this beautiful flower in a dynamic and informative museum. Then be enchanted by a selfie/show garden where no less than a million tulips and 700 different species bloom, ready to brighten up your Instagram feed.
Perfect Photo Moments and Educational Experiences
Located in the picturesque village of Noordwijkerhout, the Tulip Experience offers a modern tulip museum and a beautiful show garden. Here you can take the most beautiful photos amidst a sea of colourful tulips.
Plan Your Visit
The Tulip Experience welcomes visitors from 21 March to 12 May 2024. Book your tickets online and don't miss this enchanting experience! The Tulip Experience Amsterdam is undoubtedly one of the top attractions in Noordwijkerhout and a must-visit for anyone visiting the charming Bulb Region.
For information:
Delfweg 37, Noordwijkerhout
web.
More information